CERP (Certified Ecological Restoration Practitioner)
Co-Director and Chief Restoration Scientist
Meadowlands Research and Restoration Institute
New Jersey Sport and Exposition Authority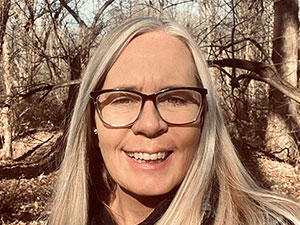 Biography
Terry Doss, CERP, is a restoration ecologist who serves as Co-Director and Chief Restoration Scientist of MRRI. Over the past 35 years, Terry has served as a local leader in restoring the natural areas located within the urban wildlands of New York and New Jersey, with a primary expertise in managing coastal and wetland restoration projects using nature-based solutions to reduce flood risks while improving resiliency for coastal communities. Terry has nurtured projects from baseline assessment, through design and permitting, to the final construction and monitoring of these natural areas.
Terry's first employer was the National Oceanic and Atmospheric Administration, where she worked as a policy analyst for the Head Scientist at the National Ocean Service in Washington D.C. Upon moving to the NY-NJ area, Terry worked for private consulting companies restore wetlands and other habitats, and author a series of restoration planning documents. Terry's first wetland restoration projects occurred in the Meadowlands, where she served as project manager for the restoration of 200 acres of wetlands on the Williams Transcontinental Gas Pipeline properties in Carlstadt.
For Biohabitats, the last private consulting firm where Terry worked before turning to public service, Terry led the NY-NJ Bioregion office for Biohabitats, a firm dedicated to restoring the earth and inspiring ecological stewardship. Her experiences while there included developing novel approaches to restore water quality within urban waterways, restoring native ecosystems and species including oysters and eelgrass, conducting water quality studies to monitor changes resulting from ecological restoration projects, and designing and constructing living shorelines along various Mid-Atlantic coastlines.
Since joining NJSEA, Terry's primary focus has been on assisting the Authority with meeting their stated mandate to protect the delicate balance of nature. Working closely with MRRI staff, she developed a Strategic Plan for the Natural
Resources Group, a USEPA-approved Wetland Program Plan, and the NJSEA's first Wildlife Action Plan. These documents now provide a living framework for the research and restoration goals undertaken daily by MRRI staff.
One of Terry's goals for the MRRI staff has been increased collaboration and coordination with others organizations and groups that share the agency's goal for protecting the delicate balance of nature. To further this goal, Terry regularly attends meetings with local, regional, state-wide, national and international groups and organizations and encourages staff to become involved as well to expand their knowledge and hone their technical skills.
Terry regularly works in the field with MRRI staff to monitor site conditions within the Meadowlands; assist with Diamondback Terrapin and avian surveys; map habitat and shorelines; build and restore nests and breeding areas; and undertake cutting edge efforts to naturally manage invasive species that threaten the diversity of the Meadowlands. Terry enjoys sharing her observations and lessons learned through her photographs and presentations. Terry's vision for MRRI is to produce credible and salient science and information, to promote cost-effective resource management, and to pursue diverse funding sources for the future conservation and restoration of the NJSEA's natural resources.
Terry received a BS in Agricultural Sciences in 1984, and later received a Master of Marine Policy in 1989, both from the University of Delaware. In 2003, Terry studied Earth Sciences as part of a PhD program at Lehigh University where her research focus was the fens of Alberta, Canada – studying soil carbon accumulation within peat cores taken across Western Canada.
In addition to sitting on the Board of Directors for the NY/NJ Baykeeper, where she serves as Vice Chair, Terry is actively involved with the following professional societies:
Society of Wetland Scientists: Past president of the Mid-Atlantic Chapter, recipient of the President's Award, and currently serving on the Board for the Restoration Section;
Society for Ecological Restoration (SER): Board member for the Mid-Atlantic Chapter;
Ecological Society of America; and,
National Association of Wetland Managers
Terry frequently speaks at the annual conferences for these professional societies. She was certified by SER as an Ecological Restoration Practitioner in 2018 and has been leading efforts to train others on SER's International Standards for the Practice of Ecological Restoration.
Resume